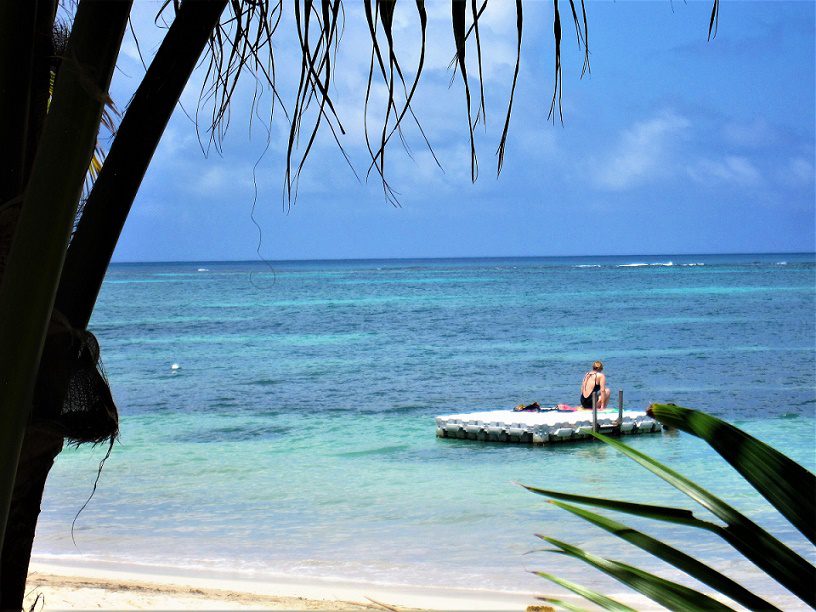 Hi Doug,
Thanks for following up.
All goes well including the swim dock, our guests use the heck out of it!
We were literally just commenting on how glad we were that we had chosen your dock for our hotel.
We hope to see you on our tropical island paradise.
— Scot, Little Corn Beach and Bungalow, Nicaragua
Took Abuse with Regularity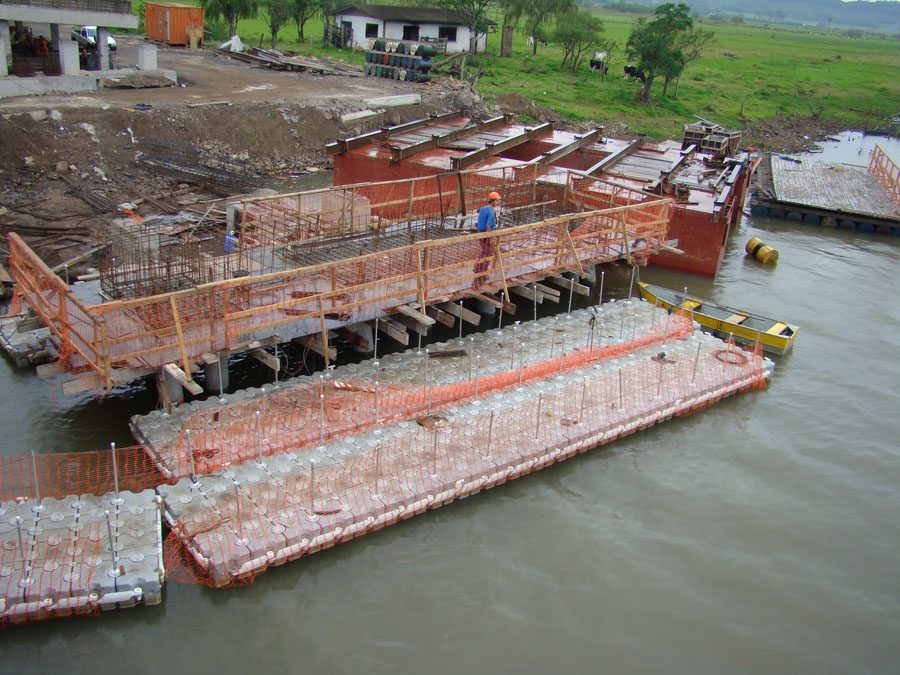 Hi Doug,
We used the Dock Blocks that we purchased from you as a heavy duty work platform. We loaded it with rebar along with personnel to place it. We also used it to install and remove heavy lumber and form-work components. The project that we used this on completed in 2016.
The platform was very durable, stable, and took construction abuse with regularity. It was easy to assemble / disassemble as well.
Thank you,
— Dave Loomis, Senior Concrete Superintendent
The Boat Sat High and Dry!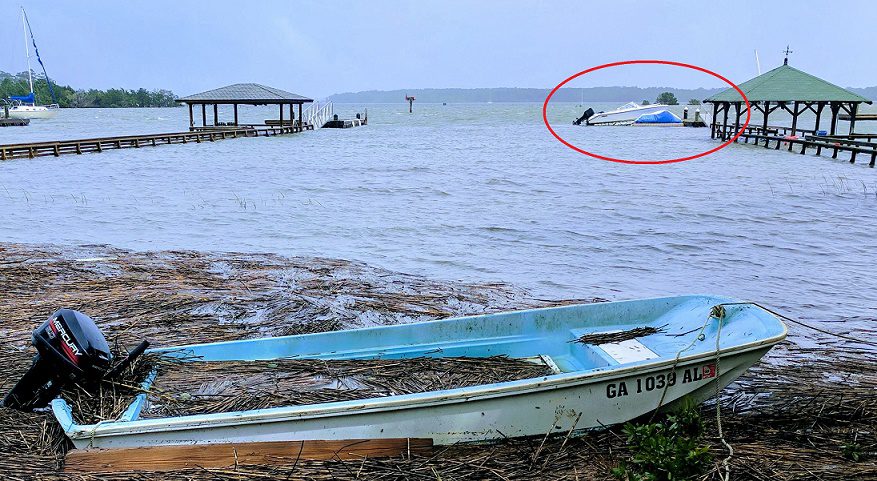 My 20 ft. Mako rode out Irma and Matthew on the Dock-Blocks, fixed structures are under water but the boat sat high and dry!
— R. Timms, Richmond Hill, GA

Got the blocks on Friday. Got it put together, did it slightly differently than I was originally to have a little more width right at the deck, but still have all the small blocks installed. Was pretty much me and my kids. Got help from my neighbor to stand it up to do the nuts and to pull it into the water. Went well.
— Scott Stewart, Satellite Beach, FL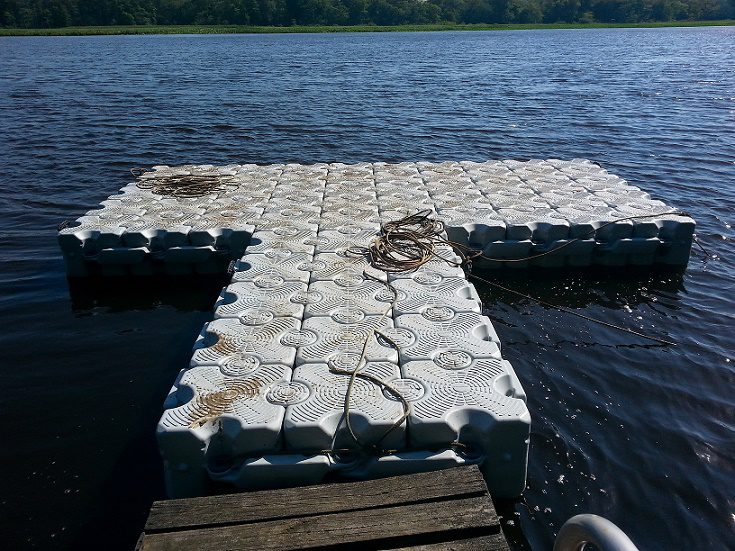 Mike,
We assembled the dock yesterday. Started it in the marsh next to our existing ramp at low tide. We got it done in just an hour and a half, which included carrying the parts from the driveway in front of the house to the creek in the back.
Waited for the tide to rise and float it so we could push it out and unhooked the old floating barrel dock and attached the new one.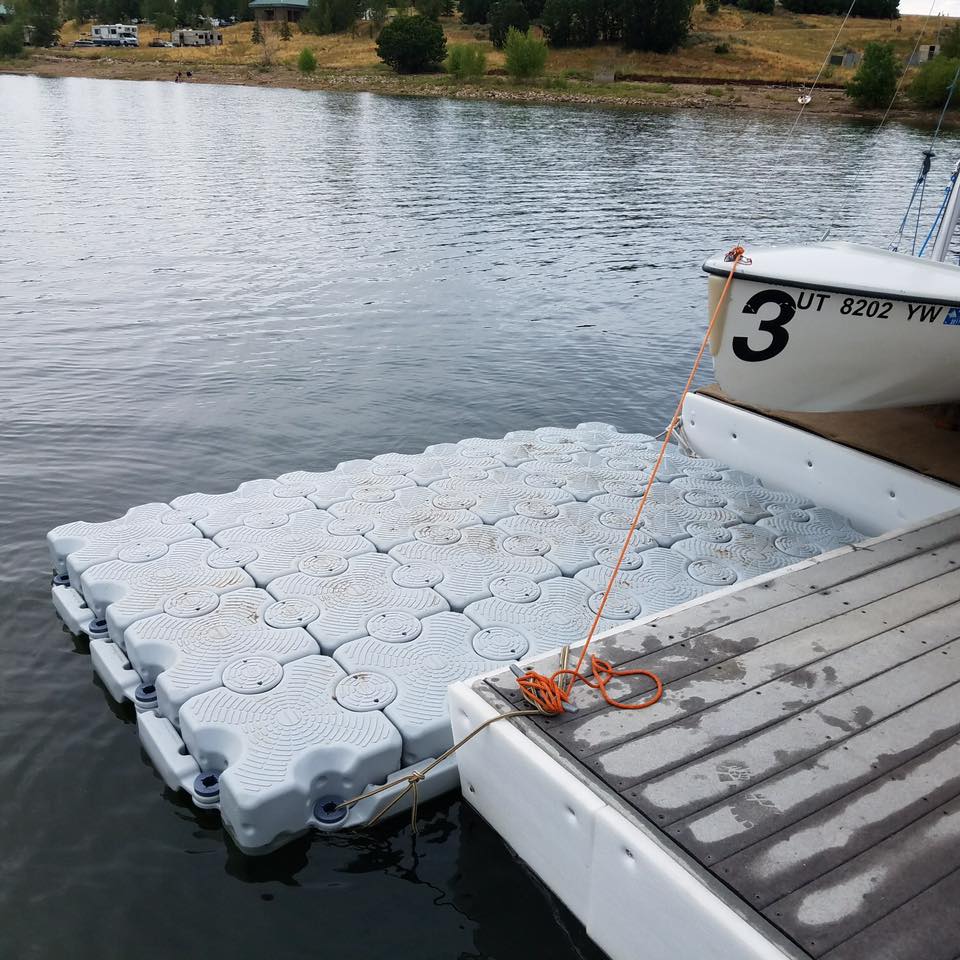 Thank you Dock Blocks Boat Lifts & Floating Docks for the generous donation to Park City Sailing! This is the beginning of a larger and safer dock solution for our Optimist and 420 sailboats. #sailpc #floatyourboat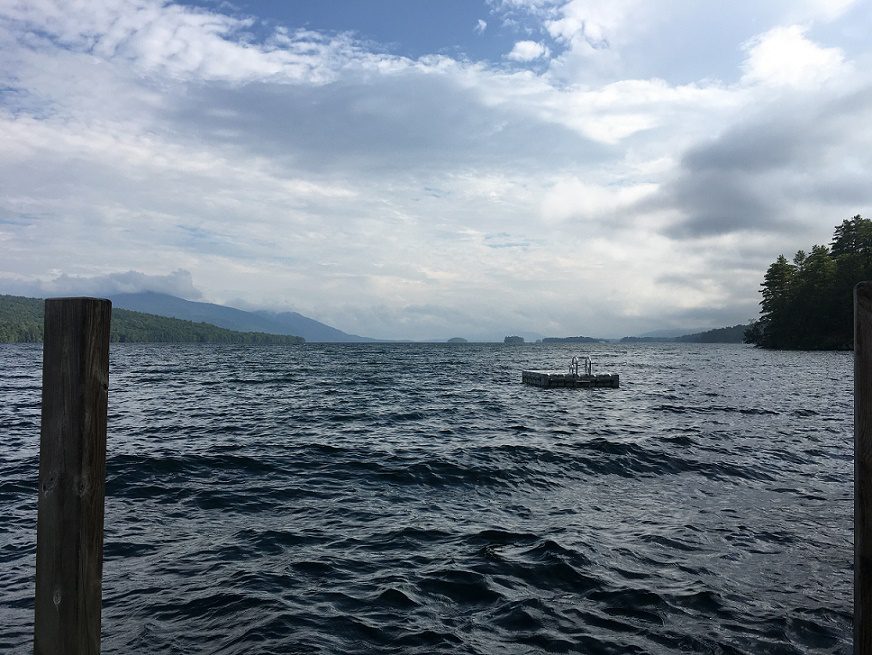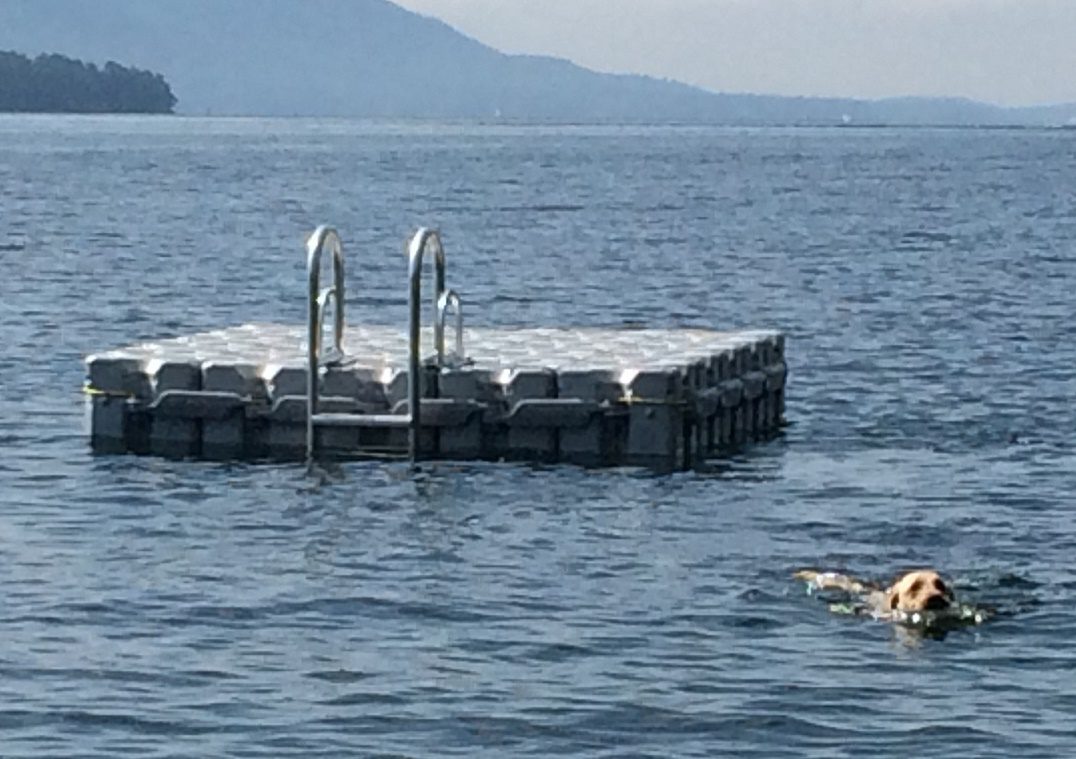 Doug,
We're very happy with our Dock Blocks. They're nice and sturdy and maintenance is easy. I've also noticed that the gulls must not like the surface of the blocks, so we don't have to spend time scrubbing gull poop off like our neighbors with wooden platforms do. I've attached a couple of photos. One is pretty distant, I recognize. The other doesn't have great focus clarity but comes with a dog as a bonus!
Warmest regards,
— Steve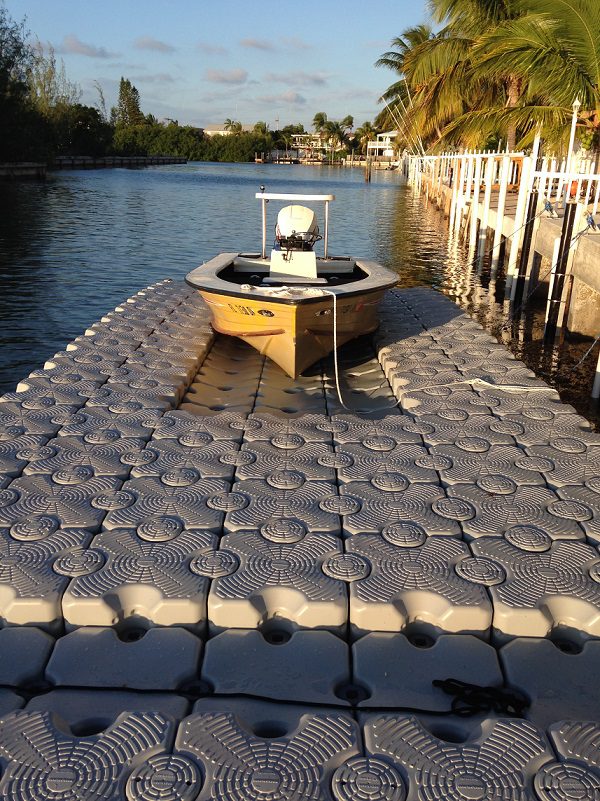 I am really impressed with the whole thing and your customer service. Will gladly recommend you. I had your main competitors product before and tried to get another this time but they were such jerks. So I went shopping…
What a difference with you. Thank you!
— Joe K., DMD
4 months later…
Hi Doug,
We absolutely love the lift! What a difference it makes. Love to just walk out on it to view the ocean. We could not be more pleased."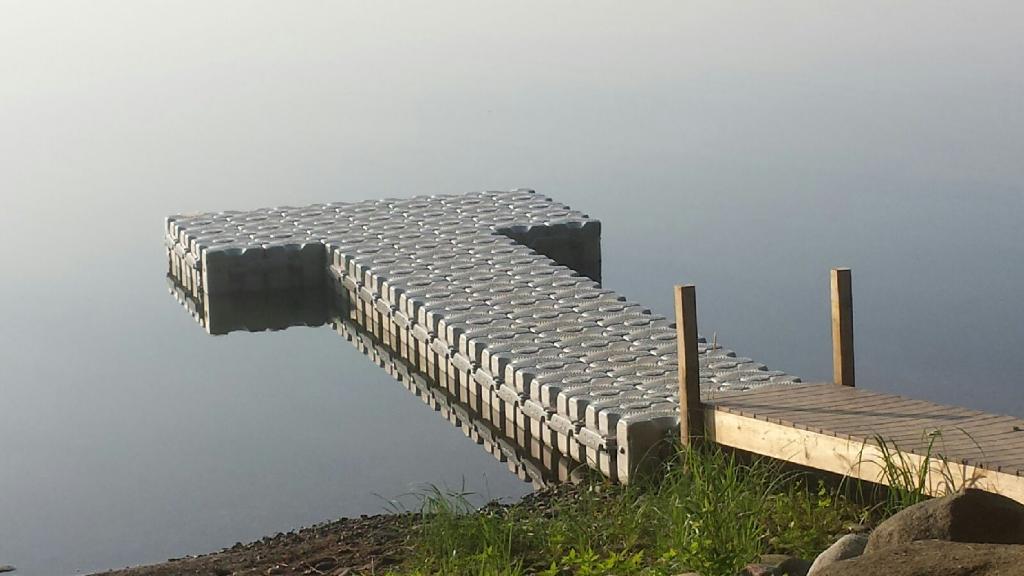 The Dock Blocks were exactly as advertised and my family and I really enjoyed them this past summer as they replaced our permanent dock that often shifted with the freezing temps in winter. I especially enjoyed not having to remove the Dock Blocks from the water this fall when I was closing up the property!
— Jeff L., Sandy Creek, NY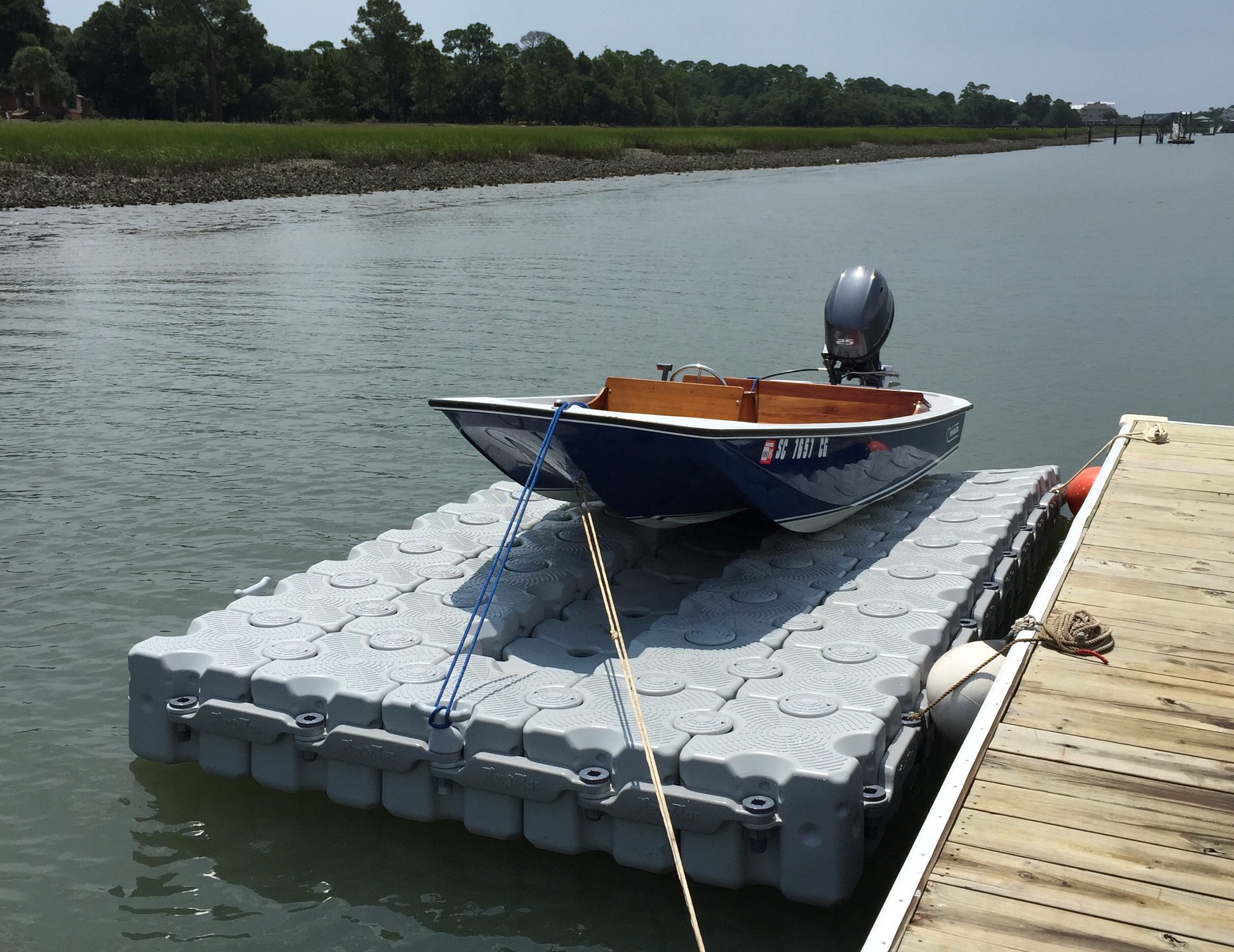 We love our dock blocks boat lift ! It rode out the hurricane with NO problems and currently is home to our 17 Montauk Whaler. Thinking about adding a second one in the spring!
— F. Hassell, Folly Beach, SC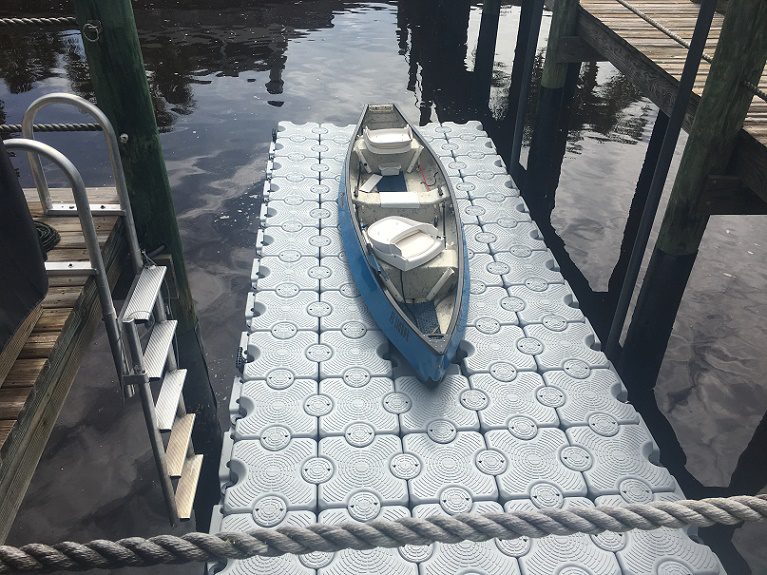 To whom it may concern,
I'm writing to compliment Dockblocks on your product and sales staff. I just completed the 19 x 9 dock to put my Gheenoe on. I am impressed with the quality of the components, the easy of assembly and simplicity of the system. The lack of metal moving parts is greatly appreciated considering maintenance.
I also want to thank Doug Edwards for all his help in sales. Doug knows the product and patiently answered any questions or concerns. It certainly was as easy as he claimed and he was a pleasure to work with.
Thanks again,
— Jeff Baldwin, Ponte Vedra, Fl 32082
Road the Waves Like a Champ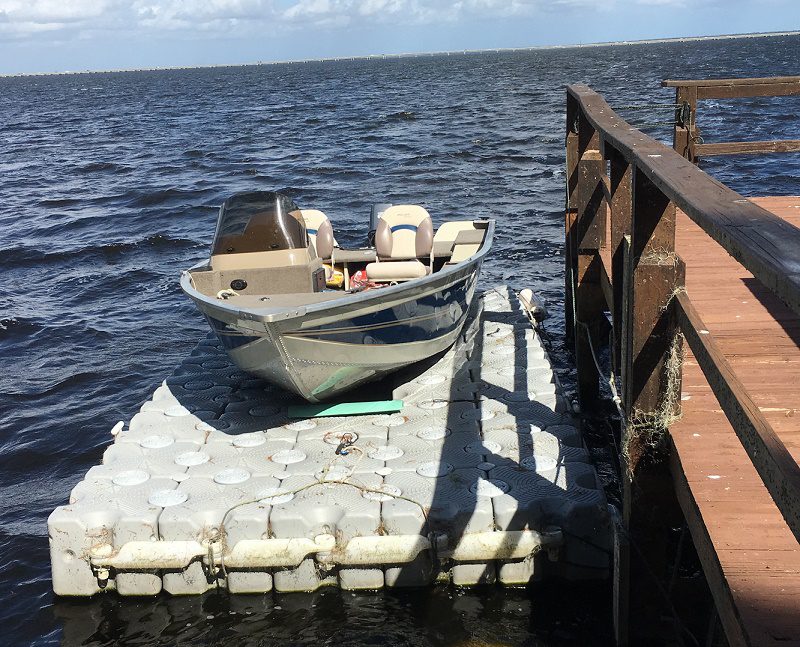 I am on Lake Jessup which is a 17,000 acre lake approximate 35 miles from Daytona Beach Florida. Hurricane Matthew just went through last week and as you can see, the boat and the dock did just fine. No damage and rode the waves like a champ.

I have neighbors who have spent $30,000 and $40,000 for boat lifts and have to deal with the roof the electric and the maintenance. Your floating dock has not cost me one penny from the date of purchase. I am a strong believer in your product, keep up the good work.
— Paul
DOCK you like a Hurricane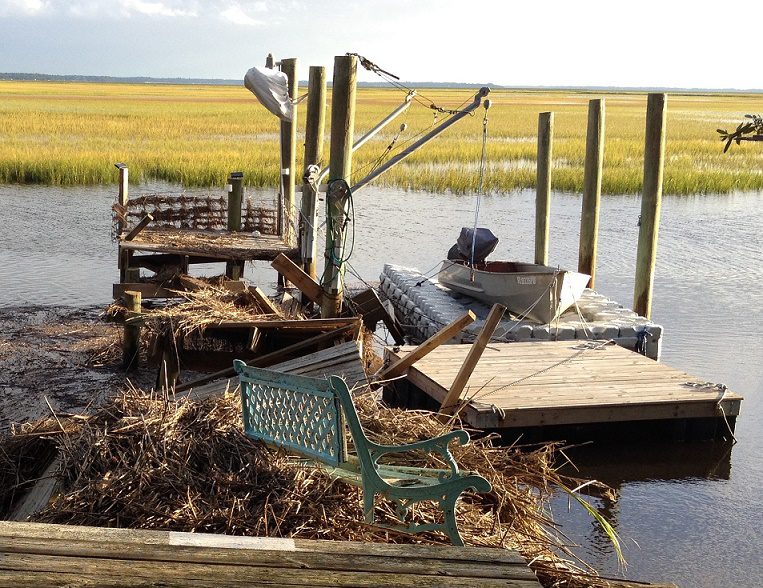 I am still very pleased with the dock. I am including a pic of my Dock-Block system after Hurricane Matthew. It survived a 10 foot storm surge and the boat didn't move. As you can see, most of my dock was destroyed!

Best,
— Paul
You could say the blocks are Hurricane proof!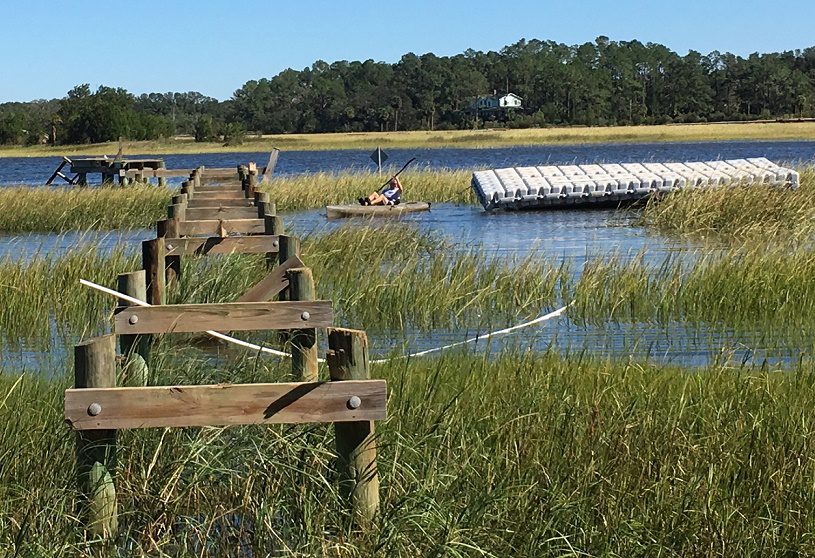 Well Matthew floated my dock blocks floating and my floating dock away. Well you could say I lost most everything. I found the dock blocks still attached to the floating dock 1/4 to 1/2 a mile away. So I got back in my kayak and with a little help from an outgoing tide brought them both back. Here is a picture and what is left of my dock. You could say the dock blocks are Hurricane proof!
— Wallace S.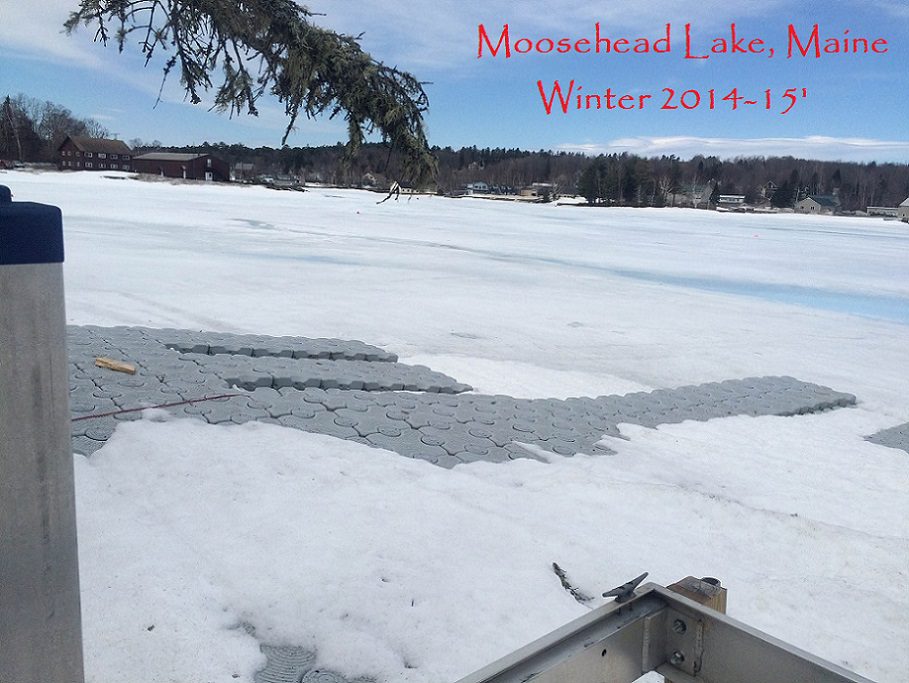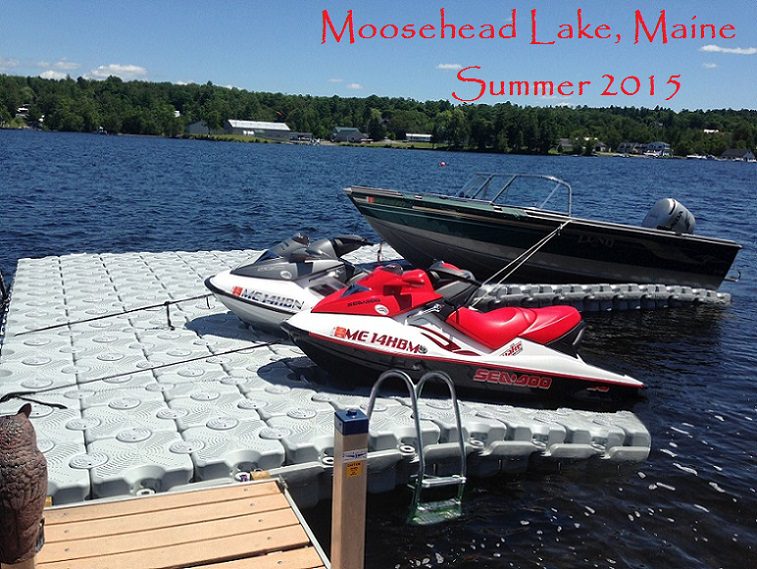 Pictured is a drive-on system on Moosehead Lake in Greenville, Maine. The system has been in the water for over a year and made it through a very harsh Maine winter completely intact.
If you are located in the New England area, click here to get set up today!
Coastal Expeditions Expand Operations to Isle of Palms Marina and Continue to Choose Dock Blocks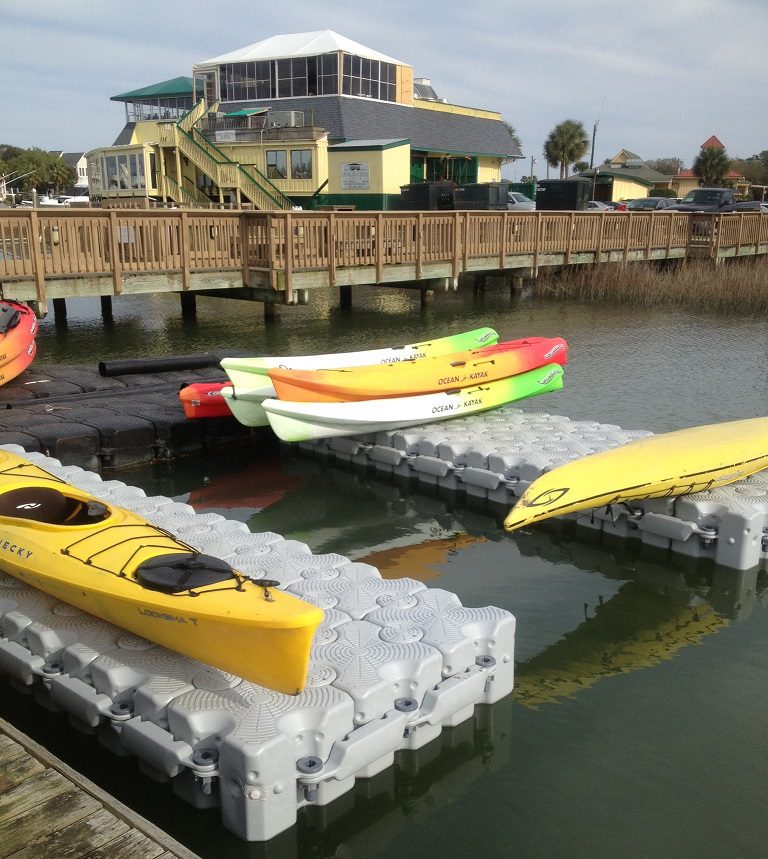 Chris Crolley and the wonderful people at Coastal Expeditions are now offering guided tours of the beautiful waterways of Gray Bay and Dewees Inlet just off the Intracoastal Waterway outside of Charleston, SC.
If you are looking for a guided trip from the experts be sure to check them out!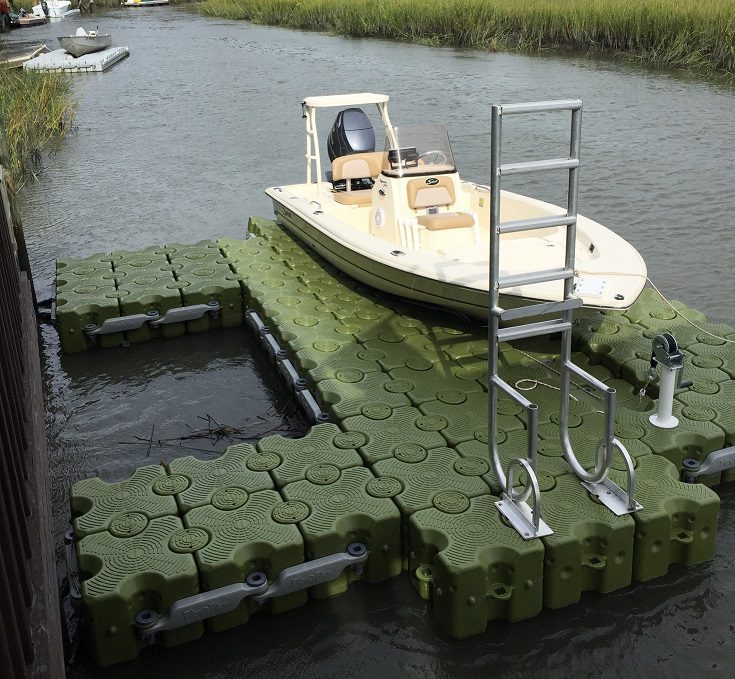 The setup was flawless including the team helping me get them from the landing to my dock . This was actually very fun. I would call it an adventure. The system works as good if not better than the black cubes which I sold to get the dock blocks system. The dock block system is the only system which comes in a friendly green color, which my neighbors are now jealous of!
— Steve Miller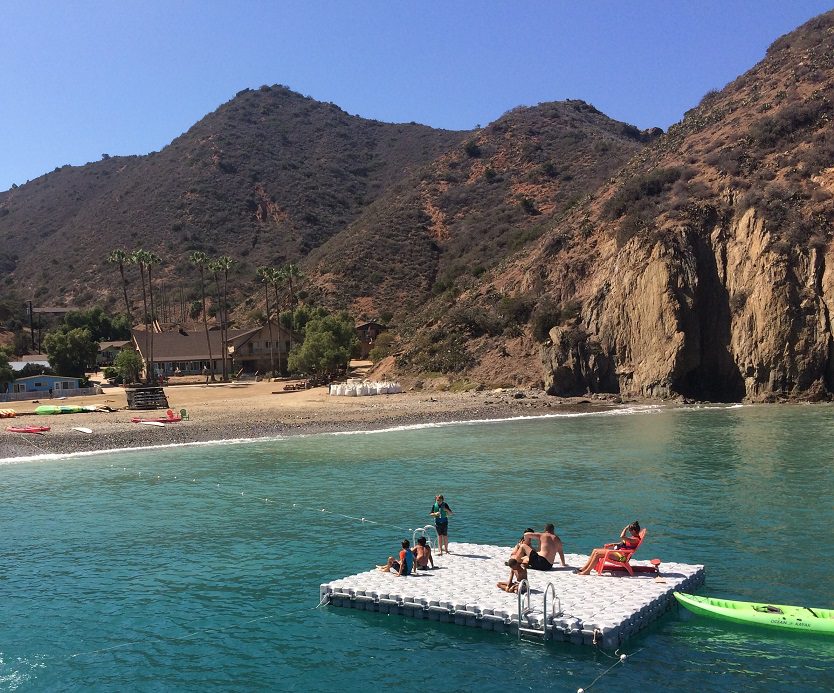 We have a swim line that is anchored to a concrete block on the ocean floor. We have it tied to that on the two corners and one more straight line to the anchor. Thanks again for your help. The kids love it out here in Catalina!
— Dana, Catalina Island Marine Institute
Stingray 195 LS/LX Bowrider Docks Like a Charm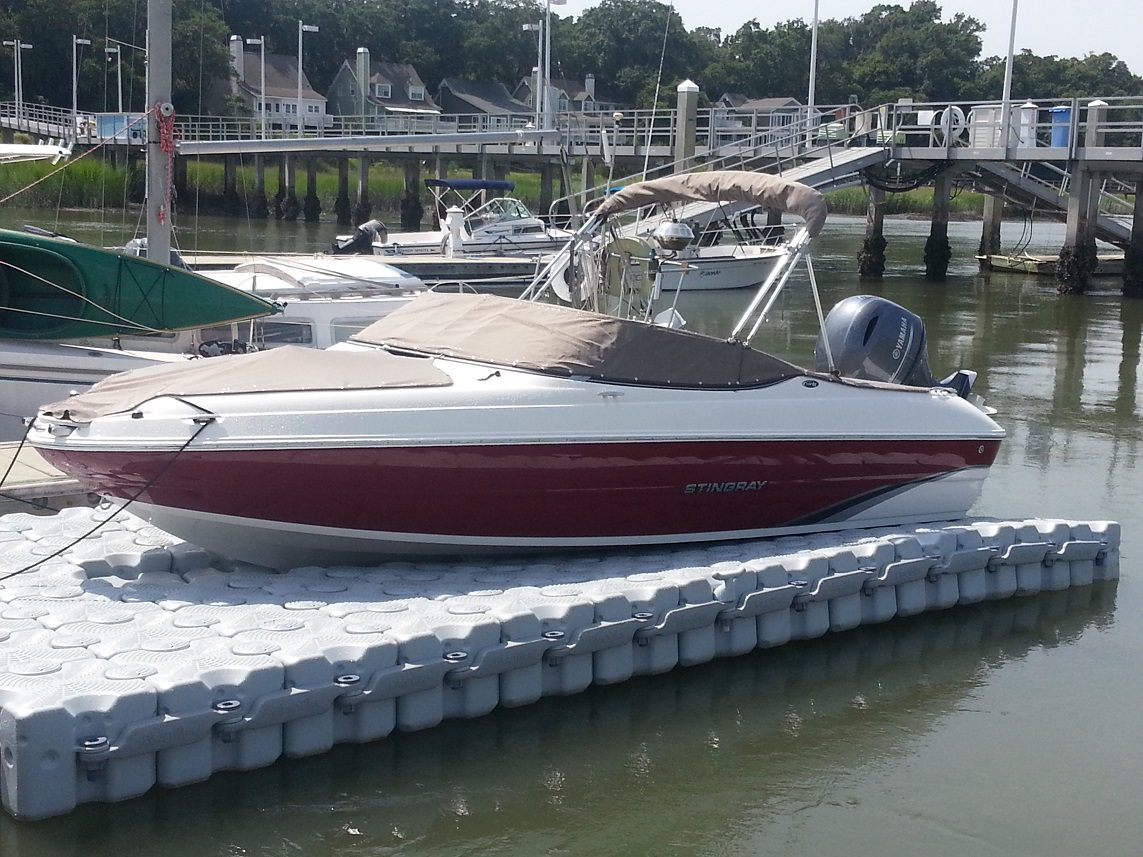 Hi Doug:

We are getting better getting on the dock. Getting off is real easy. The dock is working very well for us. Here is a picture of the new boat on the dock!
— Barbara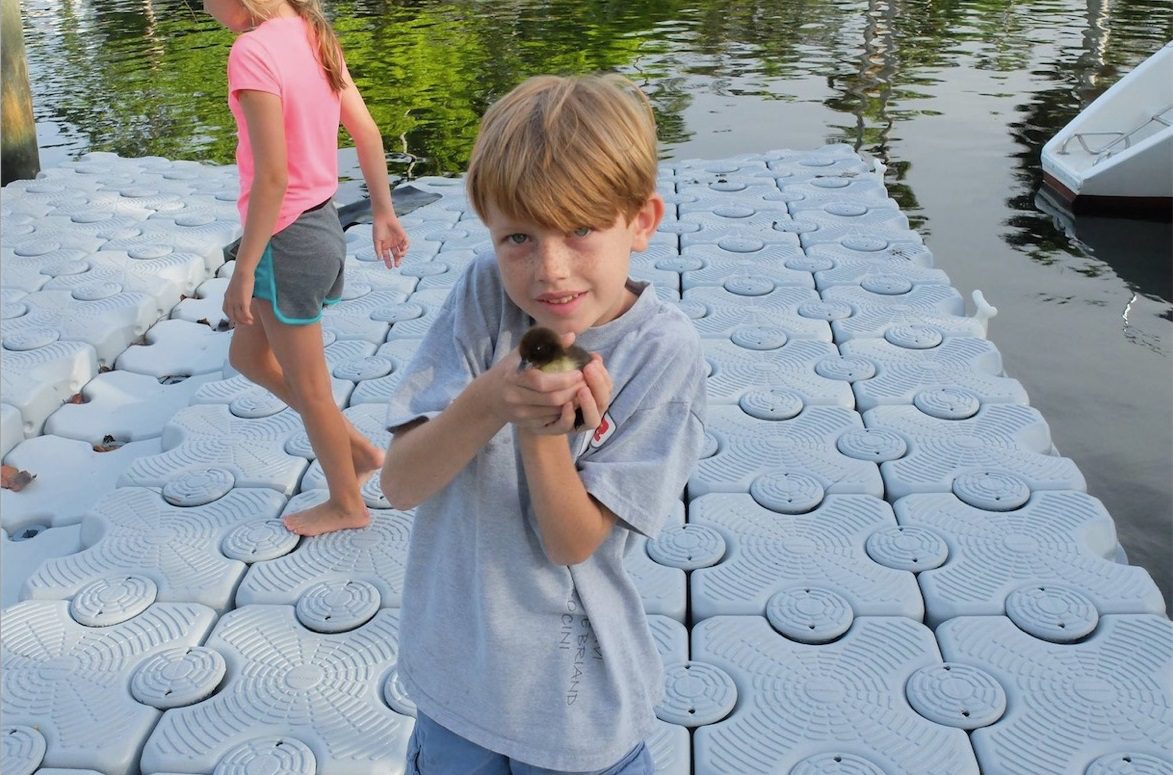 It turns out the dock is not duck proof.

My wife needed to orchestrate a little rescue one morning this week. Woke up this morning to a distressed Momma duck. Six of her babies had fallen into the water from the Dock Blocks. We managed to reunite all of the babies with their Momma who waited near by.
— Steve in Lauderdale
Another Key West 190 CC High and Dry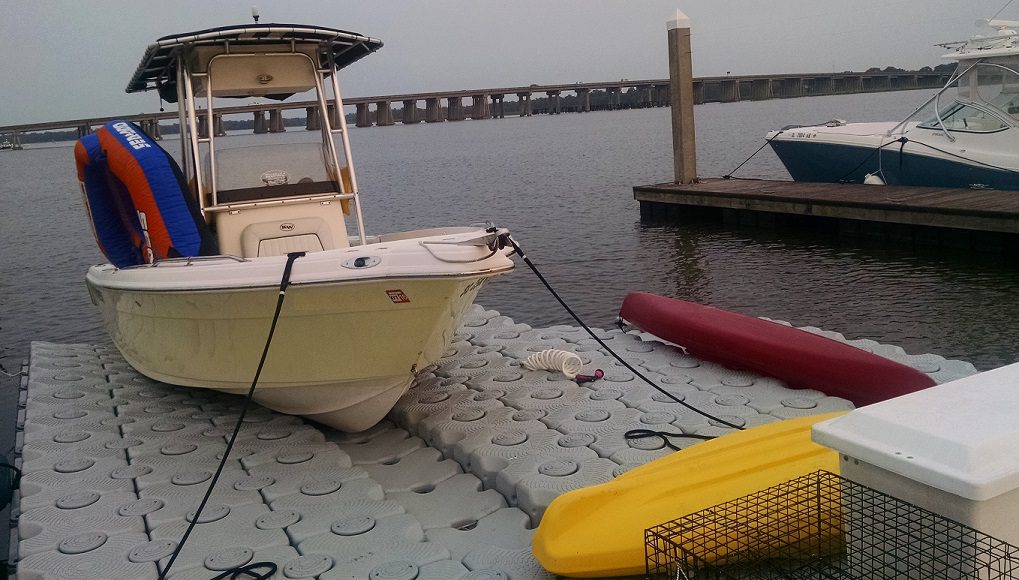 Doug,
I hope this message finds you well and busy. Just wanted to let you know how well the Dock Blocks have worked out. Once I had the bottom cleaned getting on and off of the pad is incredibly easy. I have attached a photo but if you need to come out and take another picture feel free to at any time. I know a couple of my neighbors had spoken to you about purchasing from you and I hope it works out.
Thanks again,
— Dub G.
Short-Term Assembly: Long-Term Solution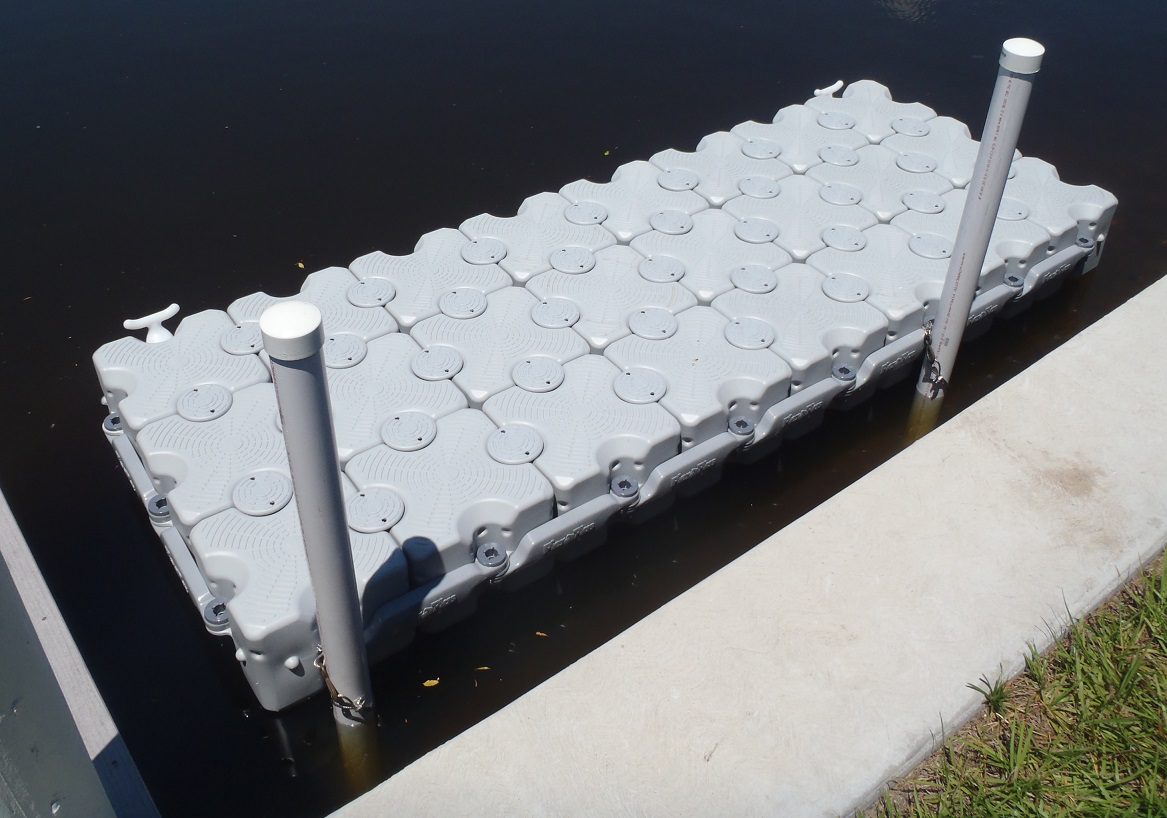 The blocks arrived at the time arranged. I assembled the dock in two halves on my fixed dock, launched and connected the two sections. This took about an hour and a half for the 24 block dock. Once the perimeter braces were tightened, I had a very stable and rigid dock. I'm very pleased.
Thanks for your help,
— Harry
Blue Water Yacht Harbor Uses Dock Blocks to Fill the Gap for Stand-Up Paddleboards and Kayaks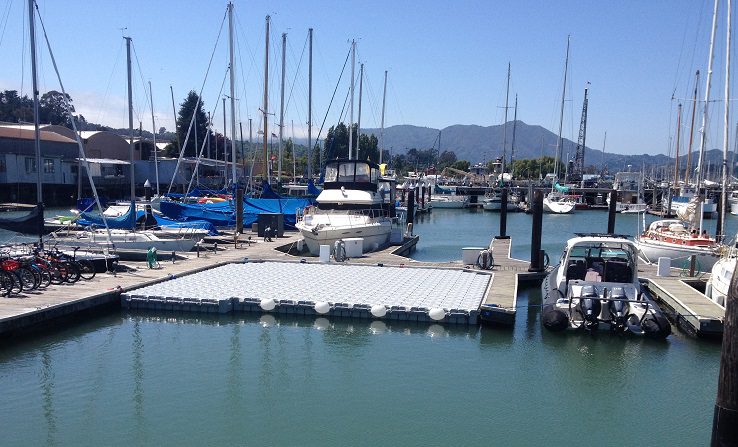 (324 blocks total, 28.8 ft. x 28.8 ft.)
The folks at Blue Water Yacht Harbor are using their Dock Blocks system to help promote their new Bluerush Aquatic Center in Sausalito, CA, just outside of San Francisco.
The system is working great for us. We use it as a platform for our kayak and SUP owners. Having the system has been a big plus as our owners no longer need to walk their kayaks and SUP's down the ramp to launch. Maintenance has been non-existent. Just an awesome system.
— Christopher Lacey, Blue Water Yacht Harbor Harbormaster
Coastal Expeditions of Charleston Discovers the Beauty of a Low Freeboard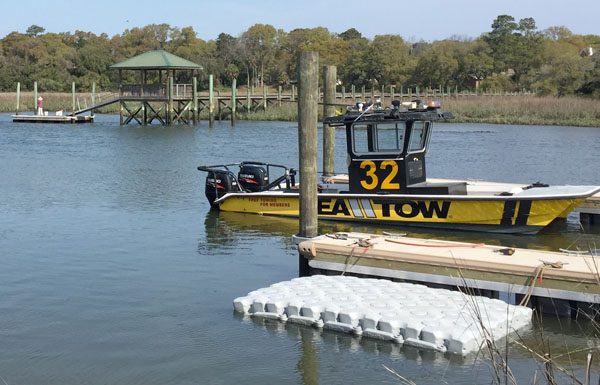 Chris Crolley, owner of Coastal Expeditions of Charleston, put in a call inquiring about a solution for launching his kayaks in a fast and convenient way. After designing a docking system that is 9.6 ft. x 6.4 ft., 24 blocks total, the decision was made to go with the "Half-Floaters." Offering the low freeboard made the most sense for Chris' needs, as the 10″ profile would be ideal for customers getting in and out of kayaks.
Hours later, he had a dock in the water ready for launch.
My Review after Five Years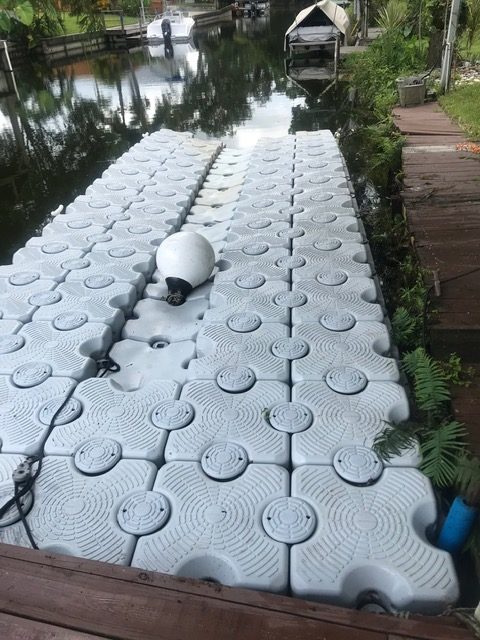 Henry, Doug,
I just got finished pressure washing my dock blocks and I am quite impressed. My dock Blocks are going on 5 years now, and they cleaned up good as new. I drive on and off of my dock blocks almost daily since I am a hardcore bass fisherman. Over the years I've had two warranty issues with Dock Blocks and your Customer Support is where you have really earned my respect and admiration.
You have a customer for life and a word of mouth salesman for your product. Keep up the great work.
— Mike Butz
Golfing Legend Fred Funk Chooses Dock Blocks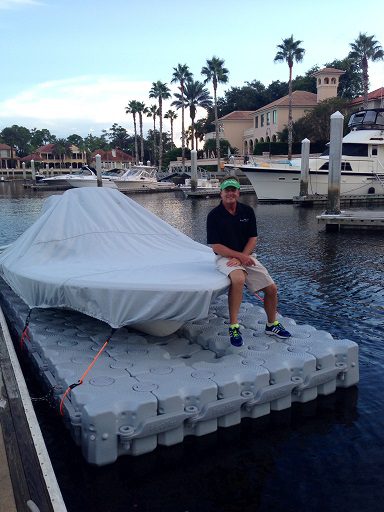 Dock Blocks are easy, clean and convenient. They are really a great way to keep my new boat out of the water. I would recommend Dock Blocks to anyone.
— Fred Funk, 191 Bay Scout Owner, Senior PGA Tour Golfer, 2009 U.S. Senior Open Champion, 2004 Ryder Cup Team Member
Dock Blocks Survived Hurricane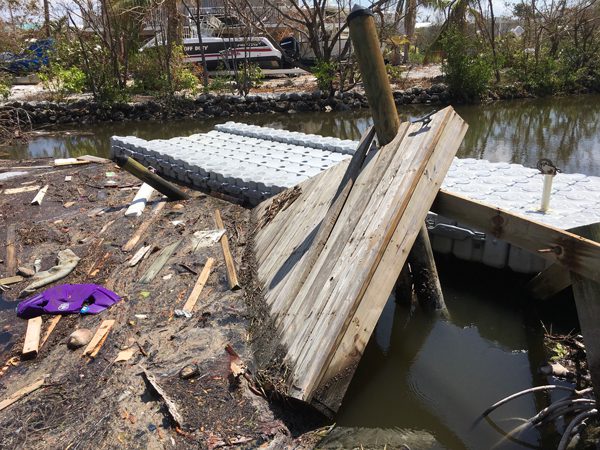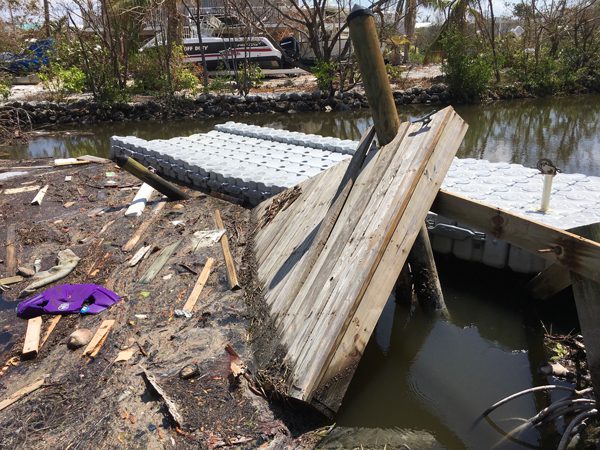 This pic shows how tough Dock-Blocks are. Hurricane Irma didn't harm my Dock Blocks at all. The wood dock it was attached to is another story.
My boat survived the 5 foot storm surge on the trailer with only slight engine damage.
Best regards,
— Jeff Kelly, Ramrod Key, FL
It works great in our tidal waters and has held up well through winters in the NE and tropical storms (3 of them).
— Jill S., Coastal New England